Welcome to our website
The next meeting of the Society will be on Monday 15th February 2016
when the speaker will be Angus Fraser MBE.
With 46 test match and 42 ODIs for England "Gus" has been an outstanding bowler with a total of 1,278 wickets in first class and limited over cricket and more than a few memorable performances with the bat. His subsequent career in cricket has included successful spells in the media and management as well as an appointment as a national selector.

As it is highly likely that there will be a large attendance at this meeting it has been decided to restrict this to a members only event. Please refer any matters regarding this meeting to our Secretary, John Windle.
Ken Roe
We were very sorry to learn earlier this week of the death of our Vice President, Ken Roe.
Our sincere condolences go to Ken's widow, Mary.
Ken was a member of CCLS for over 40 years, being active on our Committee and served a period as our President.
He was subsequently appointed as a Vice President.
He will be greatly missed by so many.
Our meetings take place in the pavilion at the Queen's Park cricket ground unless members are informed otherwise. Membership costs £5. Visitors are welcome for a small fee which will be refunded if the visitor becomes a member on the evening.
Meetings begin at 7.30 p.m. and are held monthly from October to March. The evenings vary from Monday to Thursday.
Founded in 1963, we are the "senior" of the three societies in Derbyshire.
The aim of the Society is to further interest in and enthusiasm for cricket at all levels
Don't forget to visit the Derbyshire CCC website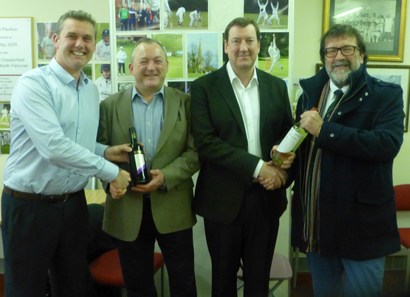 The photo shows (L-R) Jonathan Brookes (CCLS Committee Member), Chris Watts, Steven Richardson and Mike Taylor (CCLS Chairman)

Photo courtesy of John Windle
VISIT OF CHRIS WATTS & STEVEN RICHARDSON ON WEDNESDAY 6TH JANUARY 2016
Ex-Metropolitan Police officers Chris Watts and Steve Richardson from the ECB Anti-Corruption Unit joined us to give an insight into the efforts being made to eliminate corruption from cricket.

At the commencement of the talk, Chris asked the question 'Is cricket meeting the threat?' There is no doubt that, if asked at the end of the meeting the 60 members present would have responded with a resounding 'Yes'.

Chris and Steve gave details of the incidents which resulted in such units being formed by the ICC and national governing bodies. Cases since formation were also discussed.

They indicated that if there was no betting there would be no corruption and when they gave details on the level of betting in cricket, even on domestic games in this country, gasps from members were heard. There was no previous comprehension by members present on the scale of the 'industry' both in this country and also of the incomparable market in the sub-continent. Despite the problems it has produced they thought that betting on cricket should not be discouraged as there now were good procedures in place to ensure fairness.

The current E&WCB Anti – Corruption Code for Participants was explained and details given on its implementation. Article One of the Code states:-

'All cricket matches are to be contested on a level playing-field, with the outcome of every ball and every cricket match to be determined solely by the respective merits of the competing teams and, therefore, to remain uncertain until each ball is bowled and until the cricket match is completed. This is the essential characteristic that gives sport its unique appeal.

Public confidence in the authenticity and integrity of the sporting contest is therefore vital. If that confidence is undermined, then the very essence of cricket will be shaken to the core. It is the determination to protect that essence of cricket that has led the ECB to adopt this Anti-Corruption Code.'

They also showed a video, shown to all professional cricketers, made in cooperation with convicted Essex player Mervyn Westfield.

Speaking to members after the meeting comments included 'sad, haunting, a dose of reality, incredulity, poignant,' but each comment was followed by 're-assuring, professional, safe hands, comforting'.

Perhaps the general conclusion to the evening was best summed up by CCLS Chairman, Mike Taylor who stated in a note to the speakers:

'As well as providing such an informative insight to your work and some of the serious issues facing the game we all love, you brought great credit to the ECB as regards their drive to focus on prevention as a way of combatting something that could seriously blight our wonderful game. '

Members present would endorse those comments and be grateful that this aspect of the game is in the very safe hands of Chris, Steven and their colleagues.
---
Reports from Previous Meetings
2015/2016 Season
Paul Baldwin
Stephen Chalke
Wes Durston
2014/2015 Season
David Frith
Martin Bodenham
Grahame Lloyd & John Parkin
The Pyemont Brothers
Graeme Welch
Tony Borrington
2013/2014 Season
Simon Storey
Jeff Evans
Chris Marples
Colin Shindler
John Carr
Malcolm Ashton
2012/2013 Season
John Barclay
Cally Barlow
MJK Smith OBE
Stephen Chalke
John Lever MBE
Geoff Miller
2011/2012 Season
Chris Grant & Tom Poynton
Rev'd Mike Vockins OBE
Richard Kettleborough
Derbyshire Cricket Academy
Mick Newell
Roger Knight OBE
Clive Radley MBE
2010/2011 Season
Pat Murphy
Paul Edwards
Colin Tunnicliffe
Geoff Cook
Don Shepherd & Edward Bevan
David Morgan
Gallery

Members of the late Trevor
Bowring's family with
Mike Taylor and Jason Fage

Trevor's grandson, Sam, rings the
bell for the first time, with
Shirley Bowring and Mike Taylor
| | | | | |
| --- | --- | --- | --- | --- |
| David Marshall & James Pipe | John Barclay & Edwin Smith | David Marshall & John Barclay | Trevor Bowring, David Marshall & Bob Wood | John Barclay meeting,134 people enjoy a superb meal |
| John Morris & David Marshall | Trevor Bowring, Jim Parks & Jim Brailsford | Matthew Maynard & David Marshall | Niven Roper & Chris Kelly | Ray East & Mike Taylor |
| Chris Read & David Marshall | Steve Garratt & Niven Roper | Steve Franks & Alan West | Steve Kirby & David Marshall | Keith Loring & Mike Taylor |
Copyright © 2004-2016 Chesterfield Cricket Lovers' Society and CricketArchive