Welcome to our website
We hope our members have a wonderful summer of cricket in 2015.

Our meetings will recommence in October 2015.

If you require any information please contact the Society Secretary.
Jim Brailsford R.I.P.
Members of the Society have been saddened to learn of the death of Jim Brailsford in mid-June.
An excellent President (2004-2006), and a regular attender until health issues intervened, his contributions were greatly valued and he was a friend to many.
As our Chairman Mike Taylor has said "Jim personified everything that is good about cricket".
His funeral will be at Chesterfield Crematorium on Friday 3 July at 3.30 p.m. and afterwards in the marquee at Queen's Park.
If you require any information please contact the Society Secretary.
Our meetings take place in the pavilion at the Queen's Park cricket ground unless members are informed otherwise. Membership costs £5. Visitors are welcome for a small fee which will be refunded if the visitor becomes a member on the evening.
Meetings begin at 7.45 p.m. and are held monthly from October to March. The evenings vary from Monday to Thursday.
Founded in 1963, we are the "senior" of the three societies in Derbyshire.
Society Objectives
To provide a source of contact between cricket enthusiasts everywhere and to promote, arrange and conduct meetings, social gatherings and other functions in order to enable members of the Society to meet one another and to encourage and facilitate the exchange of views and information concerning cricket.
To provide such facilities for playing cricket as may be in the interest of members and of the game as a whole.
To extend and explain the knowledge, appreciation and love of cricket amongst persons of all ages and all countries and to assist in any possible way towards the benefit of cricket players and all who are interested in the game.
Don't forget to visit the Derbyshire CCC website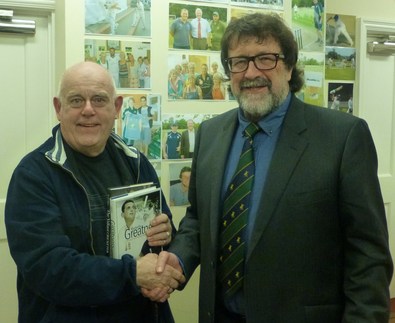 The photo shows Jonathan Salisbury receiving the
'Ray Buxton Service to Cricket Award' from Chairman, Mike Taylor.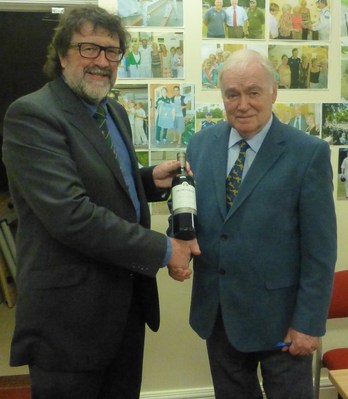 The photo shows Mike Taylor presenting a bottle of wine
to guest speaker, David Frith

Photo's courtesy of John Windle
VISIT OF DAVID FRITH ON WEDNESDAY 18TH MARCH 2015
We were delighted at the commencement of our final meeting of the winter season to make the presentation of 'The Ray Buxton Service to Cricket Award' (presented annually since inauguration in 1968) to Jonathan Salisbury.

Jon's 'cricketing CV' dates back to at least 1967 when he ran teams at Henry Cavendish School, Derby with a then almost parallel role with Derby City U13 & U15 sides. He chaired Derbyshire Cricket Association from 1980 before evolving into a similar role with Derbyshire Cricket Board until retirement in 2013, an impressive 33 years of positive and successful leadership. His contribution to the cause of Umpiring in Derbyshire must also be unrivalled – an ongoing on-field presence of 38 years (including officiating in 4 National Finals and 28 years in County Seconds) and 30+ years already recorded as Appointments Secretary, Mentor and all-round respected Champion of 'The Men in White Coats'!

Jon's considerable achievements ensured he received very warm acknowledgement from the audience and his response in acceptance of the award was typically sincere and humble.

It was then time to welcome David Frith to speak to Society members. Over the years he has built a reputation for excellence as a reporter, editor and author. The startling point arising from his talk was his contact and friendship with so many great cricket players throughout the world. He recounted with ease and without notes some conversations he had with these greats in the game (which are detailed in his recent book 'Frith's Encounters'). Amongst his favourite characters were Godfrey Evans, Ray Lindwall and John Arlott.

As in his writing, he had definite opinions about individuals and subjects. Monthly cricket magazines are not as good as they were in the past; he would like the current crop of international cricketers to display more human qualities and be 'less machine like'. As an avid collector of cricketing memorabilia he was particularly critical of modern cricketers giving unidentifiable scribble as an autograph – this would not have been done in times past. Regarding comments about individual cricketers you will have to read the book!

He informed the meeting that his latest book, being published in April 2015 was' Stoddy': England's Finest Sportsman' – a book about A E Stoddart. This means he returns, after 45 years and 45 books, to the subject of his first book, written in 1970, 'My Victorious Stod' which won the inaugural Cricket Society Book of the Year award.

The evening was a fascinating insight into David Frith's extensive life built around the game he loves. It was enjoyed by all attending.
---
Reports from Previous Meetings
2014/2015 Season
Martin Bodenham
Grahame Lloyd & John Parkin
The Pyemont Brothers
Graeme Welch
Tony Borrington
2013/2014 Season
Simon Storey
Jeff Evans
Chris Marples
Colin Shindler
John Carr
Malcolm Ashton
2012/2013 Season
John Barclay
Cally Barlow
MJK Smith OBE
Stephen Chalke
John Lever MBE
Geoff Miller
2011/2012 Season
Chris Grant & Tom Poynton
Rev'd Mike Vockins OBE
Richard Kettleborough
Derbyshire Cricket Academy
Mick Newell
Roger Knight OBE
Clive Radley MBE
2010/2011 Season
Pat Murphy
Paul Edwards
Colin Tunnicliffe
Geoff Cook
Don Shepherd & Edward Bevan
David Morgan
Gallery
| | | | | |
| --- | --- | --- | --- | --- |
| David Marshall & James Pipe | John Barclay & Edwin Smith | David Marshall & John Barclay | Trevor Bowring, David Marshall & Bob Wood | John Barclay meeting,134 people enjoy a superb meal |
| John Morris & David Marshall | Trevor Bowring, Jim Parks & Jim Brailsford | Matthew Maynard & David Marshall | Niven Roper & Chris Kelly | Ray East & Mike Taylor |
| Chris Read & David Marshall | Steve Garratt & Niven Roper | Steve Franks & Alan West | Steve Kirby & David Marshall | Keith Loring & Mike Taylor |