Welcome to our website
Next Meeting
The next meeting of the Society will be on Thursday 9th March 2017 (7.30pm)
The speaker will be David Leatherdale, Chief Executive, Professional Cricketers Association
Please note the venue for this meeting is Queen's Park Pavilion.
Admission restricted to CCLS fully paid-up members
Our meetings take place in the pavilion at the Queen's Park cricket ground unless members are informed otherwise.
Membership costs £5. Visitors are welcome for a small fee which will be refunded if the visitor becomes a member on the evening.
Meetings begin at 7.30 p.m. and are held monthly from October to March. The evenings vary from Monday to Thursday.
Founded in 1963, we are the "senior" of the three societies in Derbyshire.
The aim of the Society is to further interest in and enthusiasm for cricket at all levels
Don't forget to visit the Derbyshire CCC website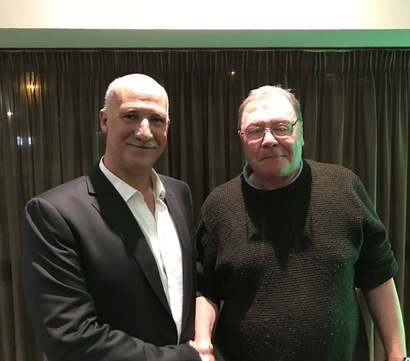 The photo shows Kim Barnett alongside Society member, Steve King

Photo courtesy of Mike Taylor
VISIT OF KIM BARNETT ON MONDAY 13TH FEBRUARY 2017
Members of the society have had an excellent start to 2017. After last month's visit from the widely-respected and immensely popular former captain, Wayne Madsen, Derbyshire's new Director of Cricket, Kim Barnett, gave an interesting talk at the February meeting at the Proact Stadium in Chesterfield.
Kim is, of course, not new to Derbyshire. Far from it. He is the county's record run scorer and was captain for several years. He mentioned how much in his early days he was indebted to the great Eddie Barlow, and spoke with great warmth about former players such as Peter Kirsten, John Wright and Adrian Kuiper, talking as well about the long-serving groundsman, Walter Goodyear. He spoke of how he hoped to improve the on-field results, clearly believing in the importance of handing responsibility back to the captain and the players, and regarding his own approach as "old school".
He responded pleasantly and directly, and with wit and good humour, to questions from the Chairman, Mike Taylor, and from the floor. He spoke with great confidence about the abilities of his captain Billy Godleman. He talked about the new signings and how importantly he saw the role of mentors. Asked about his own batting, he made it clear that he valued a well-made 60 on a difficult pitch more than a double century in less demanding circumstances. He touched on some of the current problems brought by agents and spoke about attitudes to dissent. Most appreciated of all probably were his account of the approach and achievements of the legendary Michael Holding and the amusing stories he told about some of the umpires he had played under.
Many Derbyshire members went home with the impression that the future of the club is in very capable hands.
---
Reports from Previous Meetings
2016/2017 Season
Wayne Madsen
Dave Fletcher
Neil Mallender
Alan Hill
Simon Jones MBE & Malcolm Ashton
2015/2016 Season
Richard Blakey
Angus Fraser MBE
Chris Watts & Steve Richardson
Paul Baldwin
Stephen Chalke
Wes Durston
2014/2015 Season
David Frith
Martin Bodenham
Grahame Lloyd & John Parkin
The Pyemont Brothers
Graeme Welch
Tony Borrington
2013/2014 Season
Simon Storey
Jeff Evans
Chris Marples
Colin Shindler
John Carr
Malcolm Ashton
2012/2013 Season
John Barclay
Cally Barlow
MJK Smith OBE
Stephen Chalke
John Lever MBE
Geoff Miller
2011/2012 Season
Chris Grant & Tom Poynton
Rev'd Mike Vockins OBE
Richard Kettleborough
Derbyshire Cricket Academy
Mick Newell
Roger Knight OBE
Clive Radley MBE
2010/2011 Season
Pat Murphy
Paul Edwards
Colin Tunnicliffe
Geoff Cook
Don Shepherd & Edward Bevan
David Morgan
Gallery

Members of the late Trevor
Bowring's family with
Mike Taylor and Jason Fage

Trevor's grandson, Sam, rings the
bell for the first time, with
Shirley Bowring and Mike Taylor
| | | | | |
| --- | --- | --- | --- | --- |
| David Marshall & James Pipe | John Barclay & Edwin Smith | David Marshall & John Barclay | Trevor Bowring, David Marshall & Bob Wood | John Barclay meeting,134 people enjoy a superb meal |
| John Morris & David Marshall | Trevor Bowring, Jim Parks & Jim Brailsford | Matthew Maynard & David Marshall | Niven Roper & Chris Kelly | Ray East & Mike Taylor |
| Chris Read & David Marshall | Steve Garratt & Niven Roper | Steve Franks & Alan West | Steve Kirby & David Marshall | Keith Loring & Mike Taylor |
Copyright © 2004-2017 Chesterfield Cricket Lovers' Society and CricketArchive