Welcome to our website
Members of the CCLS join with cricket lovers over the world in their sadness at hearing the news of the untimely death of Phillip Hughes. Our thoughts and condolences go to his family and friends at this time.
Next Meeting
The next meeting of the Society will take place at Queen's Park on Monday 8th December 2014.
The Speakers will be Peter & Christopher Pyemont.
The Pyemont brothers' present a wide ranging and fully illustrated talk on cricket with a particular focus on the Ashes including film footage of early cricket, W G Grace, Bodyline, Hutton's 364, Bradman's 0, Laker's 19 wickets and Warne's first Ashes delivery. .

Our meetings take place in the pavilion at the Queen's Park cricket ground unless members are informed otherwise. Membership costs £5. Visitors are welcome for a small fee which will be refunded if the visitor becomes a member on the evening.
Meetings begin at 7.45 p.m. and are held monthly from October to March. The evenings vary from Monday to Thursday.
Founded in 1963, we are the "senior" of the three societies in Derbyshire.
Society Objectives
To provide a source of contact between cricket enthusiasts everywhere and to promote, arrange and conduct meetings, social gatherings and other functions in order to enable members of the Society to meet one another and to encourage and facilitate the exchange of views and information concerning cricket.
To provide such facilities for playing cricket as may be in the interest of members and of the game as a whole.
To extend and explain the knowledge, appreciation and love of cricket amongst persons of all ages and all countries and to assist in any possible way towards the benefit of cricket players and all who are interested in the game.
Don't forget to visit the Derbyshire CCC website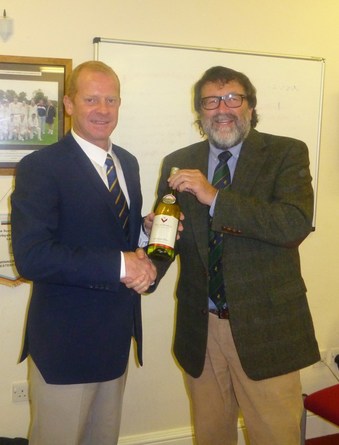 The photo shows Mike Taylor, (CCLS Chair), making a presentation to Graeme Welch.
Photo courtesy of John Windle
VISIT OF GRAEME WELCH ON THURSDAY 13TH NOVEMBER 2014
66 members present

'A very proud man who is obviously proud to be working in his current capacity for Derbyshire and has a real passion for the club' was how one member described his feelings about Graeme Welch at the end of his evening with the CCLS. Praise for his playing staff and total commitment to the club were constant themes of Graeme's talk before a packed house at CCLS.

Graeme commenced the evening being skilfully interviewed by Mike Taylor, our CCLS Chair. They commenced their 'chat' looking back at Graeme's appointment with Derbyshire in January 2014 and went on to talk about the highs and lows of the season.

The first thing Graeme thought he had to change was to instil additional discipline amongst the players and to improve training methods. He was allowed to appoint a number of people to assist him in this task. He obtained a good response from the players and his new team. It was therefore a real surprise that the team had such a poor start to the season. He did feel that things were coming together towards the end of the season and this was evident by the change in results obtained by the team.

He felt that the Club now provides everything to back up their players' performance and it is now up to each individual to perform. He only wants players who have a real feeling for the club and made numerous references to players 'playing for the badge'. They now have a great nucleus of young players coming through and it was important to him that the majority had all come through the Derbyshire system.

He was convinced that some of these younger players now playing for the club 'could go all the way in the game'. Particular mention was made of young wicketkeeper Harvey Hosein who is only 18years old.

Replying to questions from Mike and members about his playing career he said that he respected and enjoyed playing particularly with Brian Lara and Allan Donald during his time at Warwickshire.

His most memorable season was with Warwickshire in 1994. The season included Lara's 501* against Durham and saw the same batsman hit a century before lunch at the Queen's Park. He eventually made 142 out of 280 on a day when sixteen wickets fell.

Wisden said of the 1994 season: 'Warwickshire recorded the most remarkable season by any side in the history of English county cricket. Uniquely they won three trophies and arguably were only denied the fourth by a toss of a coin.

Looking back to elements of the game that were better than those currently, he highlighted that there were many more characters in the game in the past.

Asked what he had learnt from his first year at Derbyshire he quickly said 'Keep calm and speak only when necessary'. For the future he wanted to constantly learn new things and to keep challenging himself.

Graeme Welch is the Elite Performance Director at Derbyshire CCC.

Graeme Welch - Stats

First Class Matches: 171, Innings: 265, Runs: 5075, Average: 22.86, Highest Score 115*
First Class Bowling: Balls: 28450, Runs: 15034, Wickets: 477, Average: 31.51, BB: 6/30
---
Reports from Previous Meetings
2014/2015 Season
Tony Borrington
2013/2014 Season
Simon Storey
Jeff Evans
Chris Marples
Colin Shindler
John Carr
Malcolm Ashton
2012/2013 Season
John Barclay
Cally Barlow
MJK Smith OBE
Stephen Chalke
John Lever MBE
Geoff Miller
2011/2012 Season
Chris Grant & Tom Poynton
Rev'd Mike Vockins OBE
Richard Kettleborough
Derbyshire Cricket Academy
Mick Newell
Roger Knight OBE
Clive Radley MBE
2010/2011 Season
Pat Murphy
Paul Edwards
Colin Tunnicliffe
Geoff Cook
Don Shepherd & Edward Bevan
David Morgan
Gallery
| | | | | |
| --- | --- | --- | --- | --- |
| David Marshall & James Pipe | John Barclay & Edwin Smith | David Marshall & John Barclay | Trevor Bowring, David Marshall & Bob Wood | John Barclay meeting,134 people enjoy a superb meal |
| John Morris & David Marshall | Trevor Bowring, Jim Parks & Jim Brailsford | Matthew Maynard & David Marshall | Niven Roper & Chris Kelly | Ray East & Mike Taylor |
| Chris Read & David Marshall | Steve Garratt & Niven Roper | Steve Franks & Alan West | Steve Kirby & David Marshall | Keith Loring & Mike Taylor |