Welcome to our website
Next Meeting
The next meeting of the Society will take place at Queen's Park on Wednesday 18th March 2015.
The Speaker will be David Frith.
One of the world's leading writers on cricket and a highly respected historian of the game, David founded Wisden Cricket Monthly and edited it for 17 years. He has had numerous publications to his credit including a range of well received books on cricket, the most recent of which is Frith's Encounters published in 2014.

Enabling Children 2014
At a recent meeting, members responded generously to a request for donations from Shahzad Jamil, a player with Chesterfield CC who is currently working in Kwazulu Natal Province with young children who have cerebral palsy.
Donations were requested to assist in transporting essential rehabilitation equipment from Eastern Cape Province to where he is currently based.
Shahzad has informed Mike Taylor, who has been co-ordinating some of the fundraising for him, that the target was reached and the equipment is in place. He has sent the following link to thank donors and show the children using their new equipment:
please click on the heading above "Enabling Children 2014".
Our meetings take place in the pavilion at the Queen's Park cricket ground unless members are informed otherwise. Membership costs £5. Visitors are welcome for a small fee which will be refunded if the visitor becomes a member on the evening.
Meetings begin at 7.45 p.m. and are held monthly from October to March. The evenings vary from Monday to Thursday.
Founded in 1963, we are the "senior" of the three societies in Derbyshire.
Society Objectives
To provide a source of contact between cricket enthusiasts everywhere and to promote, arrange and conduct meetings, social gatherings and other functions in order to enable members of the Society to meet one another and to encourage and facilitate the exchange of views and information concerning cricket.
To provide such facilities for playing cricket as may be in the interest of members and of the game as a whole.
To extend and explain the knowledge, appreciation and love of cricket amongst persons of all ages and all countries and to assist in any possible way towards the benefit of cricket players and all who are interested in the game.
Don't forget to visit the Derbyshire CCC website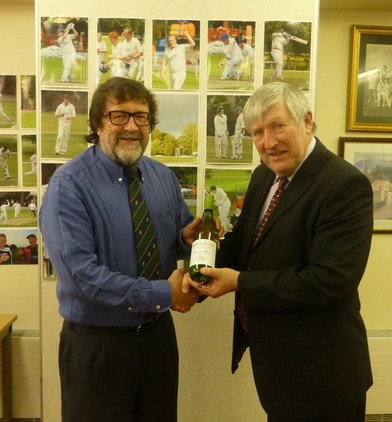 The photo, courtesy of John Windle, shows Chairman, Mike Taylor,
presenting Martin Bodenham with a bottle of wine.
VISIT OF MARTIN BODENHAM ON WEDNESDAY 11TH FEBRUARY 2015
It's Just Not Cricket!
Martin Bodenham's talk to the Society started well when he stated that he was very pleased to be back at the idyllic Queen's Park as it reminded him of the Arundel Castle Cricket Club ground which is close to where he now lives.
This has surely got to be taken up by the marketing people when selling the Chesterfield Festival – 'Come to the idyllic Queen's Park – it's as good as being at Arundel Castle!'
Martin went on to describe the life of a first class umpire, having been appointed in 2009 after a prestigious career as a top football referee (he officiated at the 1997 League Cup Final at Wembley).
The job of a first class Umpire entails officiating on 96 days per season plus travelling between grounds on 'rest days'. In Martin's opinion this schedule was too demanding and he hoped the match days would be reduced in the future. He described the feedback that Umpires received from various sources which Martin felt was helpful in assisting Umpires to improve.
Asked what he thought were the main characteristics of an Umpire in today's first class game he said 'You have to always make a decision. Don't be seen to dither'.
He also talked about getting decisions wrong and how he coped with them. Umpires needed to be very resilient and when decisions were made you had to move on. Any particularly tricky moments had to be 'parked' for later reflection.
The evening was going very well until members were given the opportunity to ask questions on cricket or football. Soon the inevitable was raised………Old Trafford 1997. Chesterfield lead Middlesbrough 2-1 with 21 minutes of normal time left in the semi- final of the FA Cup and have a third goal dubiously disallowed. Unfortunately Martin stated that the referee for that match – David Elleray, was a friend of his! The Chair, Mike Taylor just managed to keep control of the barrage of supplementary questions that followed!
Martin, with much good humour, was able to retrieve the situation and promised he would raise the matter with his friend.
An informative meeting which was enjoyed by all.
---
Reports from Previous Meetings
2014/2015 Season
Grahame Lloyd & John Parkin
The Pyemont Brothers
Graeme Welch
Tony Borrington
2013/2014 Season
Simon Storey
Jeff Evans
Chris Marples
Colin Shindler
John Carr
Malcolm Ashton
2012/2013 Season
John Barclay
Cally Barlow
MJK Smith OBE
Stephen Chalke
John Lever MBE
Geoff Miller
2011/2012 Season
Chris Grant & Tom Poynton
Rev'd Mike Vockins OBE
Richard Kettleborough
Derbyshire Cricket Academy
Mick Newell
Roger Knight OBE
Clive Radley MBE
2010/2011 Season
Pat Murphy
Paul Edwards
Colin Tunnicliffe
Geoff Cook
Don Shepherd & Edward Bevan
David Morgan
Gallery
| | | | | |
| --- | --- | --- | --- | --- |
| David Marshall & James Pipe | John Barclay & Edwin Smith | David Marshall & John Barclay | Trevor Bowring, David Marshall & Bob Wood | John Barclay meeting,134 people enjoy a superb meal |
| John Morris & David Marshall | Trevor Bowring, Jim Parks & Jim Brailsford | Matthew Maynard & David Marshall | Niven Roper & Chris Kelly | Ray East & Mike Taylor |
| Chris Read & David Marshall | Steve Garratt & Niven Roper | Steve Franks & Alan West | Steve Kirby & David Marshall | Keith Loring & Mike Taylor |